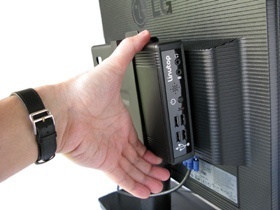 Two months back Computer Shopper, the leading high street tech magazine here in the UK posted a scathing, and to my mind, completely accurate review of the Linutop 2, giving it 1 out of 5 stars.
The Linutop 2 is actually a rebadged thin client, specifically the First International Computer Mini PC Ion A603. We ourselves looked at selling them but determined the spec was too dated (it was released in early 2007) though several other companies have rebranded it as their own - Viglen sell it as the Viglen MPC-L, Koolu in the States sells it as the Works Everywhere Appliance, and even our friends at Inveneo in San Francisco sell it as the Inveneo Computing Station (though at least they pair it with a 12V DC monitor).
Computer Shopper write:
It uses an AMD Geode LX800 processor, which runs at just 500MHz; the Intel Atom N270 used in other nettops, including Asus's Eee Box B202 (see Labs, Shopper 253), is more than three times as fast, running at 1.6GHz. There's also only 512MB of memory, while most nettops have 1GB. The cut too far, though, is that its solid-state hard disk has only 1GB of storage space.
And conclude:
It's a shame, then, that the slow components drag this computer down. It couldn't even play YouTube video smoothly, as the processor wasn't up to the job. This is even more disappointing considering that Nvidia's nettop ION platform has a graphics card that's capable of playing high-definition video. Using the desktop and OpenOffice felt incredibly sluggish, and there's only 348MB of free disk space for storing your files.
Granted our E2, with a similar processor, doesn't perform much better and struggles with YouTube but at least it has a 1GB of RAM and 8GB of storage (versus 1GB), all for a price of £219, compared to £240. And our shipping costs are far, far less.
But what's really going to shake things up is our new 12V DC Intel Atom-based T1 with 1GB RAM (optional 2GB RAM) and a much faster 1.6GHz CPU for only for £149.
And neither the E2, nor the E3, nor even the kickass T1 require a stupid mounting bracket. VESA-Mounting is built-in.
Antec's customer base is extremely different from Aleutia's:  individuals building top-end gaming and performance rigs, rather than our bread and butter of schools in Africa running on solar power.  However, as Aleutia starts to offer more powerful systems such as our new U6, which connects to 6 x 15" (or greater) VGA monitors and so can be shared by 12 students,  I've started to track ATX motherboards, quad core processors, massive heatsinks, silent case fans, terrabyte drives, and even ATX cases.  I had come across Antec's somewhat revolutionary open air case and now they have an awesome, though rather expensive, mini-itx version out.
Check out the kickass review above - takes 4 x 2.5" drives as well as offering space for a PCI-E card. Really thinking this could combine well with the Zotac 9300 mini-itx board (Nvidia 9300 with Hybrid SLI) which we use on our B2 and D2. This way you could add a top end graphics card and either a very cheap DVD-RW drive or a BluRay player, perhaps an SSD.  Have ordered one in so will let you - my enormous readership
- know how we get on.
The H1 has quickly become our best selling product - offering a reasonable Atom processor and powerful Nvidia Ion chipset (the Nvidia 9400 GPU) in a small, fanless package. The dual core version requires a small though extremly quiet fan and we're going to start offering it in the D1 chassis, which had just shipped with Intel's Dual Core board (D945GCLF2) and a crappy Intel chipset.
This is ideal because the PSU is internal (rather than an external brick on the H1) and it permits the use of a) better performing desktop drives b) an optical drive.
That board upgrade will also permit a possible 4GB of RAM (great for users who care more about RAM than CPU power) and (best of all) an optional slimline Blu-ray recorder.
Goes on sale tomorrow (July 23rd).
I've already blogged about how much I like the LG M227WD TV and though I use an Aleutia H1 for my HTPC setup, I wanted to compare it to the set-top experience. After all, a lot more people are going to buy cheap, standalone devices for BluRay, rather than home theatre PCs or Sony PS3s, just as hundreds of millions of more DVD players were sold than PCs with DVDs or Sony PS2s.
I bought the second cheapest I could fine (like choosing wine at a restaurant!), the BD370 on eBuyer (£130 ex VAT with shipping).
It's got a wondeful finish, HDMI output (along with component), very quick boottime and it plays BluRay flawlessly. If it was a PC, I'd stand in awe of its low cost perfection. It even has a 10/100 network port as well as USB 2.0 (to let you play DivX movies)
But actually, if you had a narrow, though reasonable, definition of a PC as "something that can get you on YouTube and let you play downloaded films", then you'd only need this.
There's built-in software that connects you to YouTube (navigated by an onscreen keyboard controlled by the remote). Of course you can't participate but it's a great add-on, directly at the expense of the HTPC market.
This is a major trend - electronics are becoming intelligent. If a Linksys router can run Linux (OpenWRT) and serve as a 5W fanless PC, then what's to stop a very tiny (and distorted) distribution offering a terminal, an office suite, and a web browser? Plug in a USB keyboard and you would have a fanless, smart looking PC with integrated BluRay for just £130.
LG has economies of scale that even Dell would struggle to match, let alone Aleutia.
eBay already sells LCD TVs with built-in DVD players, and a USB key for playing Divx files. And some of these even let you play NES games off your pen drive, since the TV has a built-in emulator.
If you can emulate Nintendo games or build in YouTube, why not a whole range of apps that collectively offer a PC experience?
Aside from overpriced (£220), touchscreen monitors for cars, 12V Monitors are extremely difficult to obtain. In the good old days of 2006, Newegg and other retailers had 2 or 3 15" XGA monitors with an external PSU but this side of the pond it was limited to a single Acer model and that was soon abandoned.
Now everything has a brick PSU (AC to DC) built in. You convert AC from the mains to 5V DC (sometimes 12V DC) to run the display. Great for reducing cable clutter but awful if you are off grid because then you are taking 12V Solar Power, converting it to AC in an inverter (10-15% loss), then converting back from AC to DC inside the monitor (probably a similar loss).
Our motto aspires to be Direct Current Computing and we want things to be as optimized for solar as possible. This means DC computers (all but the D1 and D2 have DC inputs), DC servers (the new B2 is 12V DC input), and DC Monitors. Nothing wasted on inverters. Everything kept simple.
I'm worried my blog has become a bit of a LG fanboy site (perhaps the only LG fansite?), but a new monitor due out imminently has a lot of potential for us. 2 x HDMI and 1 x DVI ports hardly matters but it does have a VGA port, and apparenly achieves its slim design by having the brick external.
PC Pro gives it poor marks for this clumsiness but for Africa it could be great - a high quality, low power display that two students can share (a 1920x1200 model is also coming out) for about £200, or what a 10.4" 800x600 display typically goes for.
I am extremely excited about this even though my sample doesn't arrive for another two weeks (full review and action shots to follow). As I've mentioned before, 12V monitors are a real thorn for us. We usually end up shipping dozens of inexpensive Hannspree 17" (1440x900) AC monitors and packaging them up with inverters, which though inexpensive are rather wasteful of the (very expensive) solar power.
Samsung has released what's basically a USB-powered photo frame (with marketing focused on this being a peripheral display), but it's perfect for us because it
a) uses just 4.5 Watts
b) reduces the need for another plug (DC or otherwise)
c) is an acceptable 800x480 resolution (the same as the Nokia N810). Not great for two students sharing a screen but fine for single use.
Thus any of our 12V PCs (the F5, P1, B2, and U5) could power this monitor and so you'd need just one solar panel, one battery, and one (or a few) 12V PCs. Nice and simple.
And though Samsung only offers Windows drivers, it's already been used with Linux in this fantastic example: an Asus WLAN router running OpenWRT and using a U70 since there's obviously no VGA port.
Like many entrepreneurs, I began my startup (in October, 06) with a MacBook. I had rejected the shackles of Windows, with its endless patches, wizards, and flakiness, for a personal computer that "just worked". Icons that bounced up and down, a better aesthetic, solid battery life, and a beautiful chassis made better by a Hokusai print from Gelaskins.
But Apple suffers from infant mortality. 1 week after my 12 month warranty expired, the hdd failed. This was before Time Machine and I lost everything, except that I didn't because what mattered was in the cloud. Corporate email hosted by Google, photos on Flickr, spreadsheets on Google Docs, memos on BaseCamp, and even a handful of important presentations on Slideshare.
Now I build myself a new PC nearly every week and everything is in the cloud. I've learned that all hard drives fail. I'm lucky though - I have a 20Mb connection that costs me £18. Our partners in West Africa pay 100 times that for a VSAT that's a 40th as fast. When you can't back up to the cloud, you can't trust a component that's spinning around 7200 times per second. It will fail and everything is lost. Go Solid State or RAID it.
And now two years in, my MacBook's fan has died. It was a sudden death - for months it has been so clogged with dust that it was slower and noisier and so when the processor started heating up, it would kick into 6000 RPM and you could hear it in the bedroom or throughout a starbucks. Absurd.
But then it failed. I would open smcFanControl (a popular OS X app), and watch the temperature rise from 35 C to 90 or even 92 C (practically boiling!) before it would shut off, an increase that took about 40 minutes if you were using Firefox or 5 minutes if I was having iPhoto resize photos for an iPod. And then you'd have to wait 3 hours for it cool down (I actually considering putting it in the fridge.)
Luckily I could buy a spare on eBay (£23) and install it using a tutorial on iFixit. It's now load at 6000 RPM but not nearly as loud.
But what if I live in Yola, Nigeria (where 30 Aleutia E2s are installed)? No Apple store, no eBay seller with free Naija shipping...
Our B2 features a ridiculous Quad Core CPU and it has a massive 50mm heatsink on top but it still needs a short (though very wide) 1000 RPM fan on top. Silent but not fanless.
I'd love to offer serious performance but without the need for fans, whether water-cooled, or by using humongous (like more than a foot tall) heatsinks and custom cases. Or both perhaps.
You go to a supermarket and the only way to sift through the prices is to look at the cost per pound/kilogram (or for paper towels, the cost per 100 sheets).
I've started to view everything in megapixels. An iPhone displays is 480 x 320 or .153. Standard Definition is 640x480 or about 0.3 megapixels. That's assuming a 1:5 ratio (i.e. you are recording a video on a phone/camera/camcorder). Movies like Lord of the Rings are shot at 1:2.35 ratio, but then have less pixels vertically bceause it couldn't fit on a TV otherwise. Not sure how this works.
720p is actually 1280x720 or .91 MP. We use a Nikon D90 which has a 900,000 pixel 3" display or 1280x720 which is 3 times sharper per cm (or inch, as in pixels per inch, or ppi) than an iPhone. Pretty insane.
Obviously, I'm delighted that YouTube and Vimeo have so much HD content, which is actually 3 times the resolution of SD content.
But so few people dileneate between 720p (.91 MegaPixels) and 1080p, which is 1920 x 1080 or a whopping 2.07 Megapixels. Even I used to look at 720 versus 1080 and think it was just 50% more resolution - I was thinking lines not pixels. But it's actually 2.2 times as sharp (2.07/.91).
Of course, this is all going to look like silly differences when Ultra HD (2000x4000 or 8 Megapixels) comes out.
It's already out in some circles, thanks to the Red Ray player.
Back when we were testing the Ion HTPC I bought a 1920x1080 LG 22" HDTV. Loaded with inputs (VGA, DVI, HDMI, etc.) and ideal for low power (50W) HDCP testing.
We eat our own dogfood here at Aleutia and I run a Dual Core H1 with a 320GB drive partitioned between Ubuntu 9.04 and Windows 7 RC, along with a Lite-On Dual Layer BluRay drive.
Not even going to get into the all the advantages of stability and included software, but the default windows manager on Ubuntu (Gnome) offers a wonderful, clean interface perfectly suited to computing on a television.
Meanwhile Windows 7 RC (free unti middle of 2010 when it will start to restart my system every hour) runs PowerDVD and plays BluRay movies (CPU utilization according to the task manager is just 23%).