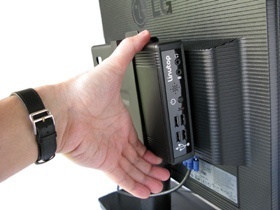 Two months back Computer Shopper, the leading high street tech magazine here in the UK posted a scathing, and to my mind, completely accurate review of the Linutop 2, giving it 1 out of 5 stars.
The Linutop 2 is actually a rebadged thin client, specifically the First International Computer Mini PC Ion A603. We ourselves looked at selling them but determined the spec was too dated (it was released in early 2007) though several other companies have rebranded it as their own - Viglen sell it as the Viglen MPC-L, Koolu in the States sells it as the Works Everywhere Appliance, and even our friends at Inveneo in San Francisco sell it as the Inveneo Computing Station (though at least they pair it with a 12V DC monitor).
Computer Shopper write:
It uses an AMD Geode LX800 processor, which runs at just 500MHz; the Intel Atom N270 used in other nettops, including Asus's Eee Box B202 (see Labs, Shopper 253), is more than three times as fast, running at 1.6GHz. There's also only 512MB of memory, while most nettops have 1GB. The cut too far, though, is that its solid-state hard disk has only 1GB of storage space.
And conclude:
It's a shame, then, that the slow components drag this computer down. It couldn't even play YouTube video smoothly, as the processor wasn't up to the job. This is even more disappointing considering that Nvidia's nettop ION platform has a graphics card that's capable of playing high-definition video. Using the desktop and OpenOffice felt incredibly sluggish, and there's only 348MB of free disk space for storing your files.
Granted our E2, with a similar processor, doesn't perform much better and struggles with YouTube but at least it has a 1GB of RAM and 8GB of storage (versus 1GB), all for a price of £219, compared to £240. And our shipping costs are far, far less.
But what's really going to shake things up is our new 12V DC Intel Atom-based T1 with 1GB RAM (optional 2GB RAM) and a much faster 1.6GHz CPU for only for £149.
And neither the E2, nor the E3, nor even the kickass T1 require a stupid mounting bracket. VESA-Mounting is built-in.