Anandtech finally has a detailed review of AMD's new E-350 technology. The verdict: better and less expensive than Ion 2.
Asus has a fanless motherboard due out soon but with what appears to be a high pricetag of €150. It's technically fanless but their Ion 2 board had an identical heatsink and ran really out - you would need a case fan.
We are also testing a fanless Nano-ITX  fusion board.
A lot of our customers in remote areas still need a DVD drive to load software and media. These days it is no more expensive to get a DVD drive that can also write DVDs and so we have released a new product, the Aleutia D1, which uses our popular D-series chassis and combines a really low power Intel D945GSEJT mainboard (same as found in the T1) with a DVD-RW drive.
It also has space for two hard drives making it ideal as a lightweight RAID box.
I am really excited by Sandy Bridge processors and their extraordinary energy efficiency. We've taken the 35W Core i5 2390T Intel CPU and combined it with a mini-itx Intel DH67CF board which offers reliable build quality along with USB 3.0, eSATA, DVI and HDMI video ports, and optical audio.
Other companies can do this but only Aleutia has made a small form factor system that is PASSIVELY COOLED and so completely silent: our new
Aleutia H3-R Fanless PC.
It has a 12V DC input and can accomodate SATA 6 Gbps SSDs.
We're always looking into ways to lower the cost and power consumption of personal computers, and so increase access to computers. Intel's Atom technology is our preferred route - offering "good enough" performance for office tasks and web browsing. I personally use an Atom D525-based T2 Pro for my office PC and, especially, with an Intel SSD, performance is more than adequate.
But the web is changing in a way that challenges the nettop spec. Everything is heading online and people increasingly want to watch HD films on youtube and locally and this requires either a fast processor or a decent GPU and software that can utilize the GPU.
XBMC can do this for local files and Flash 10.1 can do it in Windows for HD online content. (Flash 10.1 on Linux is still a joke.)
So the challenge for us is a PC with a low cost processor and a good GPU. Ion would seem to be the answer but it produces so much heat and even Ion 2 misses a lot of features. And Ion 2 is still expensive (£100+ for the board).
We like our PCs to be small but the reality is micro ATX boards are much better value. This Asrock PV530 motherboard costs just above £35/$50 and has a 1.8GHz VIA processor and a PCI Express 16 slot. I am sure we could make it fanless and then add a fanless Ati 5450 Video Card that consumes just 13W of power. Anandtech has extensively reviewed this - Sandy Bridge technology aside it's practically the perfect HTPC card.
The challenge is how to allign the card horizontally and how to make a a long case that's not too tall so you can fit everything inside an HTPC case that looks like a DVD player.
The picture says it all but suffice to say our popular P1 is now a much tougher fanless boat PC with a case that dissipates heat and a pair of serial ports to enable GPS connectivity without having to rely on fiddly USB to serial adapters. The power supply can take anything from 6 to 26V making it perfect for running off 12V batteries (14.4V fully charged, 11.2V when nearly empty) the case is nearly sealed to reduce the damaging effect of salty, moist air.
Available right  now for £299 plus VAT with a 250GB hard drive or £389 plus VAT with a solid state drive for a "No Moving Parts" PC.
Fully tested and compatible with SeaPro.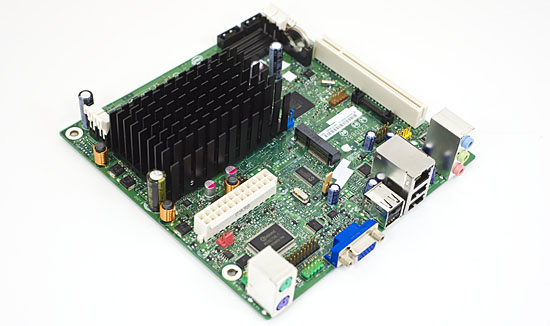 Just before CES kicked off, Intel announced a new Atom mini-itx motherboard, the D510MO. This uses the new Pine Trail platform which combines the memory controller into the DX9 graphics controller, reducing power consumption. Intel has also finally ditched the cheapo fan it used to put over the graphics controller in favour of a large heatsink, allowing the board to be passively cooled. There are also 2 x DIMM slots (like the Asrock 330 Atom board) allowing for 4GB of RAM. The D510 CPU is also a bit faster (2 x 1.66GHz) than the 330 (2 x 1.66GHz).
The power savings are substantial. Anandtech has a great write up with load power consumption on a test system dropping from 44.2 Watts to 25.8 Watts. Idle power consumption also plummets, from 41 to 21.2 Watts.
All this is great news for Aleutia customers as we'll be using it for our D1 starting this week helping us create a PC that is:
Fanless
Dual Core
4GB of RAM
Affordable
Optional SSD
Currently the internal PSU on the D1 uses a fan but we are looking at passively cooled PSUs.
This morning we've just received our first batch of the boards from Intel's biggest UK distributor. To ensure quality (and avoid any grey market issues) we only source components from Tier 1 distributors. This translates to better support for end-users as it is simple (and quick) for us to replace any failed parts.
Will have internal pictures of D1 up soon.
Unlike Intel, AMD still produces 45W Processors. These are much easier to cool (with a huge heatsink you can go passive) and of course use less power than a 65W, 95W, or 125W processor. We've taken their newest Athlon II X2 240e which is 2 x 2.8GHz (2MB L2 cache) and put in a really small mATX case with an energy efficient Gigabyte motherboard and a whopping 8 (or 16 or 4) Gigabytes of super high-speed DDR3 RAM. This memory is clocked at 1300MHz!
Whole idea is a lot of server applications just need a basic processor (ideally dual core) but need lots and lots for RAM. This way we keep the power footprint down (about 50W) and the price is low: £499 ex VAT for the 8GB version.
As it is a server, we've added an extra Gb lan port via a PCI card slot and there's an optional DVD-RW drive (though this adds to the power consumption). Only 3.7" tall so practically fits in a 2U space.
I am extremely excited about this even though my sample doesn't arrive for another two weeks (full review and action shots to follow). As I've mentioned before, 12V monitors are a real thorn for us. We usually end up shipping dozens of inexpensive Hannspree 17" (1440x900) AC monitors and packaging them up with inverters, which though inexpensive are rather wasteful of the (very expensive) solar power.
Samsung has released what's basically a USB-powered photo frame (with marketing focused on this being a peripheral display), but it's perfect for us because it
a) uses just 4.5 Watts
b) reduces the need for another plug (DC or otherwise)
c) is an acceptable 800x480 resolution (the same as the Nokia N810). Not great for two students sharing a screen but fine for single use.
Thus any of our 12V PCs (the F5, P1, B2, and U5) could power this monitor and so you'd need just one solar panel, one battery, and one (or a few) 12V PCs. Nice and simple.
And though Samsung only offers Windows drivers, it's already been used with Linux in this fantastic example: an Asus WLAN router running OpenWRT and using a U70 since there's obviously no VGA port.


Already in use in Nigeria, our new P1 is passively cooled with a grooved case that serves as a heatsink. You see even low power processors like the Intel Atom generate some heat (about 2 Watts) as does the onboard graphics controller (about 8 Watts). Normally, a small fan would keep the system cool but fans suck in dust over time which clogs their blades and makes them noisy.
Ultimately, all hardware fails but hard drives and fans fail a lot sooner since they are spinning around a few thousand times a minute.
For our P1, we developed a custom heatpipe that removes the heat from the two 1.6GHz Atom CPUs and the Intel Graphics Media Accelerator (GMA) 950 chipset and carries it to the case's top where all those grooves provide extra surface area and allow the heat to be dissipated. And though there is space for a 2.5" laptop drive we are also going to offer this with an OCZ solid state drive.
That makes the P1 the first dual core system on the market that has no moving parts!
Crucially, we've also outfitted it with a Wide Range 6-26V DC Input so that off grid users don't have to be too fussy about how precise their voltage is.
Goes on sale next week.
Sharing the same internal spec as the model below (1.0 GHz Via Eden ULV CPU, 1GB DDR2 400MHz RAM, 12V DC Input, 10 Watts) but in a slimmer case since it's designed to accomodate 2.5" laptop drives. So we can't offer a Terabyte of storage as standard but we can use extremly fast solid state drives to offer a tiny PC with no moving parts that's not crummy when it comes to performance. And the thick anodized aluminum case puts the Mac Mini to shame.
Standard configurations will be:
8GB CF Card with Ubuntu or Crunchbang (a lighterweight version of Ubuntu that includes Flash)
30GB OCZ SSD (155 MB/s Read Speed, 90 MB/s Write Speed)
Hard Drives:
40GB SATA Seagate 5400RPM Drive (faster than CF card, cheaper than SSD)
250GB 7200RPM Western Digital Scorpio Black Drive
500GB 5400RPM Western Digital Scorpio Blue Drive
Email sales at aleutia dot com to place pre orders and we can send a Paypal Invoice over. Shipping in UK is £7.50 to Europe it's €15, and pretty much anywhere else is $30.
Our fanless F5 will be released for sale online at the end of the month and boasts a 1.5GHz Via Eden Ultra Low Voltage CPU and 1GB of RAM. It has a 12V DC input and has a thick solid aluminium case that is unbreakable. We'll be releasing two seperate cases - one that can take a 2.5" drive and one that can take a 3.5" drive (pictured). Since it has a SATA-I controller, the smaller one can use ultra high-speed SSDs from OCZ and Patriot to serve as a rugged, stand-alone PC with no moving parts that runs Vista, Windows 7, or Linux.
But what's really exciting about the F5 is that with space for a 3.5" desktop drive it can serve as a Windows Home Server that is tiny compared to options from HP, Fujitsu, or even Tranquil PC. Western Digital's Caviar Green drives are now available in 2TB size, though at an early adopter price.
However, we'll be offering the system equipped with a 1TB WD drive for only $499 ($395 without any drive). Power consumption comes in at just 17 Watts, compared to 40W for a Mac Mini (that only goes up to 160GB storage and has a fan).
The 2.5" system will be $375 and $449 with a 250GB 7200RPM 16MB Cache drive running Ubuntu 8.10.
The Economist, my newspaper (their term for themselves) of choice, in an article on the (frankly obvious) joys of netbooks reported, "Steve Jobs says Apple does not know how to make a $500 computer 'that's not a piece of junk'."
Yet the original Mac Mini, released in early 2005 with a 1.25GHz PowerPC CPU, 256MB RAM, and a combo drive retailed for $499 and was actively positioned as an OS X rival to cheapo boxes from Wintel makers. As Jobs himself proclaimed, "This is the most affordable Mac ever. People who are thinking of switching will have no more excuses."
Today, it boasts a Core 2 Duo CPU and 1GB RAM for $599. But for education customers (a significant chunk of Apple's sales), it's only $499.
Of course, the Apple TV is a computer and Colo companies such as Mythic Beasts use them as dedicated servers. And that's only $199. Which is a lot for an itunes shill though not much for a server.
And so it appears Jobs only wants you to buy fancy laptops...
Disclaimer: I've had a Mac Mini since April, 2005 and, using Seamonkey, it comfortably runs multiple tabs and iPlayer. It's not total junk.
2nd Disclaimer: The Aleutia H1 (pictured) is also $599, runs the same Core 2 Duo 1.83GHz CPU, but it has 2GB RAM, a 250GB 7200RPM Drive, is completely sealed and is passively cooled through a custom heatsink.
This new PC from Fujitsu
is so much more expensive ($1000+) than the E2 and has a power consumption listed in its datasheet as TBD, that it hardly competes with us and is thus open grounds for discussion. First, I know "E2" is not the most inspired name but what kind of title is Esprimo Q5030 E-Star4, or even Q5030? This isn't some anonymous manufacturer from Guangzhou with a product on Alibaba, this is Fujitsu Siemens, icons of Germany and Japan, whose ads bombard me from the pages of the Economist! And their product page promises, "This full fledge, next generation PC has a volume of just 1.4 liters." Since I always think of computers (especially full fledge ones) in liters.
Disappointing marketing aside, this seems to be the first attempt by a Wintel assembler to challenge the Mac Mini in specs - up to 2.26GHz Intel Core Duo, DVI output, 2GB RAM, 250GB drive, and DVD-RW drive. Weighs 1.5kg (compared to Aleutia's 505g) but a massive improvement over "Small Form Factor" PCs (that regularly come in over 10kg).
Of course, we're (eventually) heading this direction as well, though with optional Blu-ray and integrated Zigbee.