Timor-Leste became the 62nd country we've sent our fanless computers to yesterday, when we shipped out a computing station kit of a 12V dual core Aleutia T2 computer and 12V monitor and all the solar kit to run it. This will be operating in a remote area for a Microfinance institute in Australia so it was essential that a) there's enough solar capacity to run indefinitely and b) that it be compact to keep FedEx shipping costs low. And it had to be easy to set up. Solar isn't absurdly complicated (even I've figured it out) but in remote areas it needs to be done right, otherwise you can blow a fuse in the solar panel (or in the DC plugs for the T2 and monitor).
We had a pair of weatherproof 20 Watt Monocrystalline panels joined by piano hinges with a a 5 meter weatherproof cable that terminates in a unique plastic male clip.
We use a Morningstar charge controller - this lets you charge the battery at the same time as you are using the PC - with 3 areas to connect cables: Solar (connect the panels here), Battery (connect the + and - battery leads here) and Lightbulb (connect whatever you want here - in this case a T2 and monitor).

We have a female plastic clip pre-wired to come out on the left (the solar icon) - these clips are set up so you can only connect the solar panel to the charge controller in the correct way.

And the brown (+) and blue (-) cables coming off the middle (battery icon) are again pre-wired to connect to the battery (for demonstration purposes at the office, just a 7 Amp hour deep cycle leisure battery):

As you can see we also have a pair of DC sockets wired in so you don't have to figure out which part of the cable is + and - and can just plug your Aleutia PC and monitor:

Every solar solution we sell is fully tested in London (we are currently setting up an office unit as a dedicated solar lab) and we're going to start YouTube'ing most of them. That way you know exactly how the solution you bought works.
The solar kit is available from our site: http://www.aleutia.com/products/solar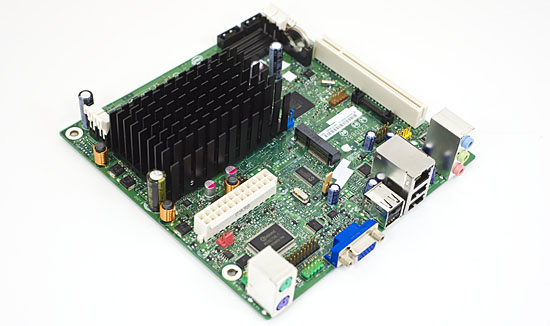 Just before CES kicked off, Intel announced a new Atom mini-itx motherboard, the D510MO. This uses the new Pine Trail platform which combines the memory controller into the DX9 graphics controller, reducing power consumption. Intel has also finally ditched the cheapo fan it used to put over the graphics controller in favour of a large heatsink, allowing the board to be passively cooled. There are also 2 x DIMM slots (like the Asrock 330 Atom board) allowing for 4GB of RAM. The D510 CPU is also a bit faster (2 x 1.66GHz) than the 330 (2 x 1.66GHz).
The power savings are substantial. Anandtech has a great write up with load power consumption on a test system dropping from 44.2 Watts to 25.8 Watts. Idle power consumption also plummets, from 41 to 21.2 Watts.
All this is great news for Aleutia customers as we'll be using it for our D1 starting this week helping us create a PC that is:
Fanless
Dual Core
4GB of RAM
Affordable
Optional SSD
Currently the internal PSU on the D1 uses a fan but we are looking at passively cooled PSUs.
This morning we've just received our first batch of the boards from Intel's biggest UK distributor. To ensure quality (and avoid any grey market issues) we only source components from Tier 1 distributors. This translates to better support for end-users as it is simple (and quick) for us to replace any failed parts.
Will have internal pictures of D1 up soon.